Building high-quality interpersonal staff-client relationships with people with severe to profound intellectual disabilities and challenging behavior: Insights of professionals and relatives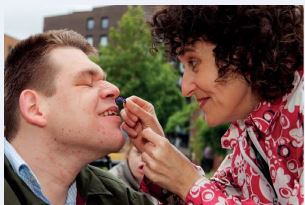 Terug
Background: Staff-client relationships impact the quality of support and life of people with severe to profound intellectual disabilities and challenging behavior, but are challenging to build due to clients' intense, complex and varying support needs. The present study explores the perspectives of professionals and relatives on what affects these interpersonal relationships.
Method: 17 professionals and 11 relatives participated in focus groups and interviews. Data collection and analysis was performed in collaboration with a co-researcher. Data were synthesized thematically.
Results:
Interpersonal relationships constituted equivalence, striving for mutual understanding, trust and exploring clients' potential. The combination of staff characteristics (enthusiasm/passion, patience, resilience, creativity/humor, flexibility) and expertise (knowledge, vulnerability/sincerity, selfreflection) enabled staff to build these relationships. The importance of involving relatives was addressed. Contextual influences included the team (cooperation, flexibility, culture), organization (cooperation, boundary conditions) and setting (predictability, interior/atmosphere).

Conclusions: The findings make practical knowledge explicit and scientifically underpinned for this specific population.
---
Auteurs: Maaike Hermsen, Rianne Simons, Hennie van Veen, Angela Prudon, Lina Rooijackers, Roy Otten en Renske Koordeman